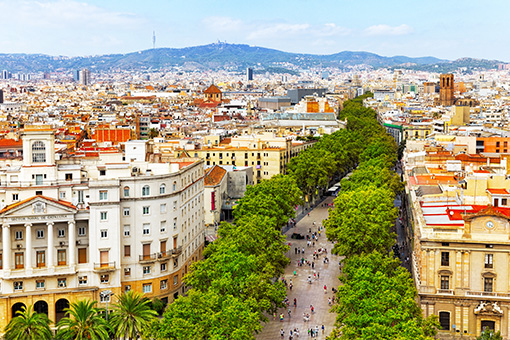 "The Barcelona Experience was an academically-challenging, culturally-stimulating opportunity that opened my eyes to the world and developed my love for other cultures. Among the highlights were the visits to world-renowned museums, lectures by world-class professors, and free time spent with new friends and RAs. The three weeks I spent in Barcelona flew by and none of us wanted to leave; I had the time of my life!" Dugan Delp, 2013
July 6-July 26, 2014
Spend three weeks studying at the University of Barcelona.
Experience college life while living in a foreign city.
Broaden your worldview.
Earn an official Columbia University Statement of Attendance.
This program is for students entering grade 11 or 12 or freshman year of college in fall 2014. Prior knowledge of Spanish is not required. The program is mounted in collaboration with the University of Barcelona, founded in 1450, the oldest university in Catalonia and the second largest in Spain.
The Barcelona Experience is a program in which students examine the history, art, urban development, and language of Barcelona, Spain, enriching their understanding of how European communities develop local, regional, national, and international identities. Students share a common three-course curriculum taught in English, supplemented by a Spanish-language workshop. University of Barcelona faculty members teach the courses.
Academic work breaks out of the classroom and into the city itself as classes visit sites of historical and cultural relevance throughout Barcelona. Additionally, two days are devoted to visiting important sites outside of the city.
Students live in a state-of-the-art University of Barcelona residence hall and are supervised by a trained and experienced residence life staff. The site director and resident advisers, in addition to providing for the safety and well-being of the students, organize various cultural and recreational activities around Barcelona.