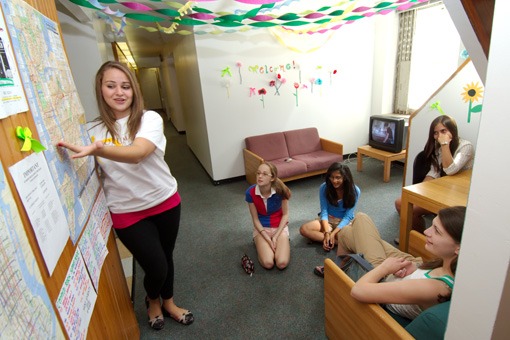 The Internship in Building Community (IBC) affords undergraduate and graduate students the opportunity to work in a dynamic multicultural program devoted to developing the interpersonal and leadership skills needed to build communities.
Learn valuable skills to prepare for a career in teaching, social work, business, politics, and other fields that call for effective and empathetic communicators;
Work with bright, highly motivated peers and high school students;
Spend your summer in New York City;
Receive a salary of $2,000 and free room and board.
The Internship in Building Community runs from June 8 to August 2, 2014.
About the Program
The Internship in Building Community is ideal for ambitious, creative college students who are interested in sharing their interests with students from a great many backgrounds and perspectives, all of whom are looking for leaders who will help them grow and engage the world in new ways. Interns hone their communication, leadership, and organizational skills while contributing in such areas as teaching, event planning, academic administration, civic engagement, media, publicity, or marketing.
The IBC is divided into two parts:
A two-week Seminar led by professionals in the field of community building and academic administration. The goal of the seminar is to teach the interns the strategies of self-aware, empathetic, productive leaders.

A Practicum, lasting six weeks, in which each intern serves as both a resident adviser and a program assistant for Columbia's Summer Program for High School Students. Using skills developed during the Seminar, interns are responsible for creating a cohesive, lively, and respectful student community.

Intern Responsibilities During the Practicum

Throughout the Practicum, interns meet to discuss their experiences, challenges, and accomplishments. At the end, they write short reflective essays that are then distributed among the IBC participants.

As interns reflect back over their experience, they look again at the principles of community building, doing so this time from the perspective of experienced resident advisers. This consideration of the theoretical (Seminar) alongside the practical (Practicum) provides interns with valuable insight into the challenges and benefits of fostering and maintaining functional, enriching communities.

The interns complete the program with real-world experience in leadership and responsibility and find that their fellow community builders have become a valuable network for sharing experiences and support in the future.